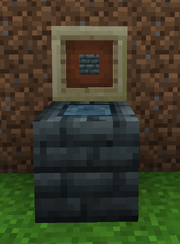 The Well replaces the Brick Well (same texture), Clay Jug, Stone Sink and Water Barrel in version 1.10.
In Version 1.7.10 any crafted sink will appear as the Water Barrel when placed. 
The Well provides an infinite water source. Right-click the well with a bucket to fill the bucket with water which can be turned into Fresh Water.
Crafting recipeEdit
Older Versions