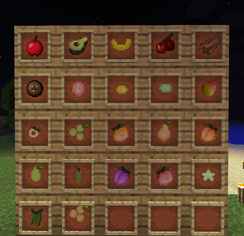 Trees can be found in the wild and when ripe the crop can be harvested. Once obtained, the crop can be combined with a sapling that is the same type of tree as the tree the crop came from to obtain a sapling that will produce that crop. In 1.9, you require 3 crop items in combination with 1 sapling. 
Harvestcraft supplies a large amount of trees from which you can harvest a wide variety of fruits and spices
Goosberry
Section heading
Edit
All of the fruits grown on trees (except apples) are unfulfilling morsels and only give 1/2 a point of hunger
Ad blocker interference detected!
Wikia is a free-to-use site that makes money from advertising. We have a modified experience for viewers using ad blockers

Wikia is not accessible if you've made further modifications. Remove the custom ad blocker rule(s) and the page will load as expected.