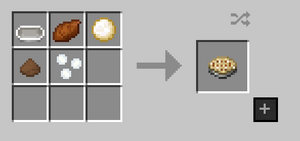 Sweet Potato Pie is a Light Meal that fills 10 hunger (5 shanks) and 10 Saturation.
Sweet Potato Pie is a traditional dessert, originating in the Southern United States. It is often served during the American holiday season, especially at Thanksgiving, and is similar in many ways to pumpkin pie. Marshmellows are sometimes added as a topping, but this was adopted more in the Northern United States than in the South.
Bakeware + Sweet Potato + Dough + Ground Cinnamon + Marshmellows
Ad blocker interference detected!
Wikia is a free-to-use site that makes money from advertising. We have a modified experience for viewers using ad blockers

Wikia is not accessible if you've made further modifications. Remove the custom ad blocker rule(s) and the page will load as expected.