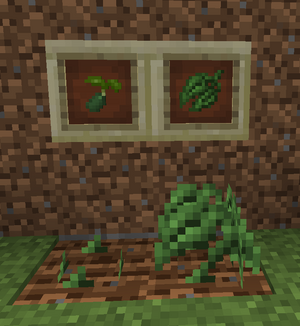 The Spice leaf is found when harvesting Soggy Garden  or can be purchased through the Market . When harvesting Spice Leaf you can break the plant with a left click and replant the Spice Leaf Seed or right click to harvest and allow the plant to regrow.

Spice Leaf can be most times be substituted for Mustard Seeds, Curry Powder and Ginger .
Spice Leaf can be combined with other ingredients to create Chicken Curry, Kimchi, Chicken Gumbo, Random Taco, Okra Creole, Potato and Leek Soup, Curry Rice ,Summer Squash with Radish, Guacamole, Cream of Avocado Soup, Fried Chicken, Holiday Cake, Sweet Pickle, Veggie Strips, Five Spice, Supreme Pizza, Roasted Root Veggie Medley, Vegemite, Gherkin, Chorizo, Pepperoni, BBQ Pulled Pork, Lamb with Mint Sauce, Garam Masala, Mango Chutney, Raw Tofish, Raw Toficken, Spaghetti, Salad Dressing, Cola Soda, Mint Chocolate Chip Ice Cream, Herb Butter Parsnips, Pork Sausage, Sunday Roast, Okra Chips, Sausage, Spring Salad, Peppermint, Maple Sausage, and Edible Root.
Ad blocker interference detected!
Wikia is a free-to-use site that makes money from advertising. We have a modified experience for viewers using ad blockers

Wikia is not accessible if you've made further modifications. Remove the custom ad blocker rule(s) and the page will load as expected.