Pears are a fruit that grow on trees that can be used to make various foods.
You farm pears by finding a wild growing tree, collecting it's pears when they become ripe. They're ripe when they are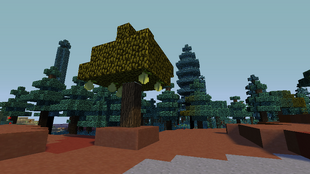 big and can be one-shotted. Combining a pear and an oak sapling will create a Pear Sapling. Pear growth can be accelerated using bonemeal.
Pear Crafting Recipes

| Recipe Name | Ingredients | Picture of Recipe |
| --- | --- | --- |
| Pear Yogurt | Pear + Plain Yogurt | |
| Poached Pear | Saucepan + Mixing Bowl + Pear + Vanilla + Sugar | |
| Pear Smoothie | Juicer + Snowball + Pear | |
| Pear Jelly | Saucepan + Sugar/Honey + Pear | |