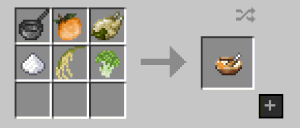 Orange Chicken is a Large Meal that fills 12 hunger (6 shanks) and 10 Saturation.
Orange Chicken is most commonly found at North American Chinese restaurants consisting of chopped, battered, and fried chicken pieces coated in a sweet orange-flavored chili sauce, which thickens or caramelizes to a glaze.
Saucepan + Orange + Raw Chicken OR Raw Toficken + Sugar OR Honey + Rice + Broccoli
Ad blocker interference detected!
Wikia is a free-to-use site that makes money from advertising. We have a modified experience for viewers using ad blockers

Wikia is not accessible if you've made further modifications. Remove the custom ad blocker rule(s) and the page will load as expected.