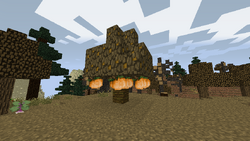 You farm oranges by finding a wild growing tree, collecting its oranges when they become ripe (you know because, if you have particles on, and you right click and it gives you a heart, or it will destroy instantly and drop an orange if you punch it). Combining the orange with a Jungle Sapling will make an Orange Sapling. Plant this and when it grows up, there will be unripe, colorless oranges on it. Wait until the oranges are orange and very large then destroy the orange and wait for it to regrow.
Ad blocker interference detected!
Wikia is a free-to-use site that makes money from advertising. We have a modified experience for viewers using ad blockers

Wikia is not accessible if you've made further modifications. Remove the custom ad blocker rule(s) and the page will load as expected.