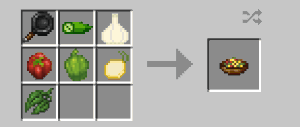 Okra Creole is a Large Meal that restores 8 Hunger (4 Shanks) with 10 Saturation.
Creole Cuisine is a style of cooking originating in Louisiana, United States which blends French, Spanish, German, Italian and Irish influences, as well as influences from the general cuisine of the Southern United States.
Skillet + Okra + Garlic + Tomato + Bellpepper + Onion + Mustard Seeds or Curry Powder or Spice Leaf or Ginger
Ad blocker interference detected!
Wikia is a free-to-use site that makes money from advertising. We have a modified experience for viewers using ad blockers

Wikia is not accessible if you've made further modifications. Remove the custom ad blocker rule(s) and the page will load as expected.