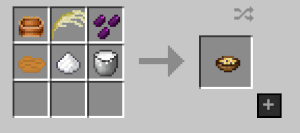 Museli is a Light Meal that fills 7 hunger (3.5 shanks) and 8.5 Saturation. Muesli is a breakfast and brunch dish based on raw rolled oats and other ingredients including grains, fresh or dried fruits, seeds and nuts, and may be mixed with cow's milk, soy milk, almond milk, other forms of plant milk, yogurt or fruit juice.
Mixing Bowl + any Grains + Raisins + Pecan + Sugar OR Honey + Fresh Milk OR Soy Milk OR Milk Bucket
Ad blocker interference detected!
Wikia is a free-to-use site that makes money from advertising. We have a modified experience for viewers using ad blockers

Wikia is not accessible if you've made further modifications. Remove the custom ad blocker rule(s) and the page will load as expected.