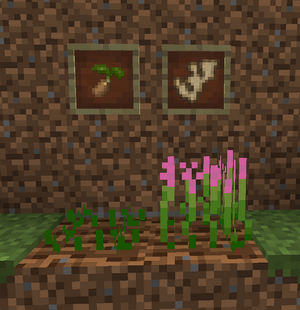 Ginger is one of the many crops found in HarvestCraft. Like most crops, it is classified as an Unfulfilling Morsel , and will restore 1 point of Hunger (0.5 Shank) when eaten. When harvesting Ginger, you can break the plant with a left click or harvest to allow the plant to regrow with a right click. Ginger can replace Spice Leaf , Mustard Seeds and Curry Powder .
Found in Tropical Gardens or seeds can be purchased throught the Market
Ginger can be combined with other ingredients to create Chicken Curry , Kimchi , Paneer Tikka Masala , Kung Pao Chicken , Chicken Gumbo , Futo Maki , Random Taco , Okra Creole , Curry Rice , Ginger Bread , Gingered Rhubarb Tart , Veggie Strips , Five Spice , Sweet and Sour Sauce , Ginger Chicken , Chorizo , Pepperoni , Ginger Snaps , Ginger Ale , Pork Sausage , Sausage , and Candied Ginger
Ad blocker interference detected!
Wikia is a free-to-use site that makes money from advertising. We have a modified experience for viewers using ad blockers

Wikia is not accessible if you've made further modifications. Remove the custom ad blocker rule(s) and the page will load as expected.