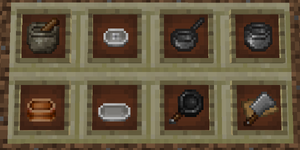 HarvestCraft adds multiple Cooking Utensils for use in making recipes.
Use these items in a crafting grid with the proper foods to create delicious meals and snacks. These items are not reusable.
Used to grind up grains and spices
Used to create juices, butters, smoothies, and other drinks
Used to create meals and candies
Used to create basic ingredients, soups and sides
Used to create salads and ice creams
Used to create delicious bake-ables like cakes, cookies, breads, and pies
Used to create delicious meals like a variety of breakfasts
Used to create sandwiches and meats
Ad blocker interference detected!
Wikia is a free-to-use site that makes money from advertising. We have a modified experience for viewers using ad blockers

Wikia is not accessible if you've made further modifications. Remove the custom ad blocker rule(s) and the page will load as expected.