Cinnamon is a tree growing
spice
.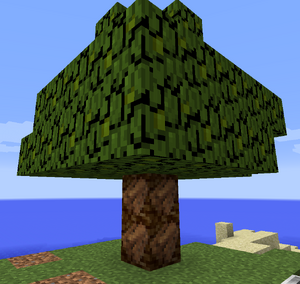 There are three ways to farm cinnamon. The first way is to find a naturally generated cinnamon tree and use it to farm cinnamon by waiting for the cinnamon to ripen, then harvesting.  The second way is to combine a piece of cinnamon with a jungle sapling, plant it, and harvesting the tree like you would a natural tree.The last way is to purchase a Cinnamon Sapling from The Market.
Unlike other tree-produced foods, the cinnamon is obtained from the trunk of the tree.  When unripe, the logs appear as durable as any other tree.  When ripe, they break with a single punch and an unripe log reappears when the cinnamon drops.
Note: You must use ground cinnamon which is made by placing mortar and pestle and raw cinnamon together in the crafting table.
Crafting Recipes for Cinnamon

| Recipe Name | Ingredients | Picture of Crafting Recipe |
| --- | --- | --- |
| Ground Cinnamon | Cinnamon + Mortar and Pestle | |
| Cinnamon Roll | Sugar + Ground Cinnamon + Dough + Bakeware | |
| French Toast | Sugar + Ground Cinnamon + Toast + Egg + Skillet | |
| Cinnamon Sugar Doughnut | Cinnamon + Sugar + Donut | |
| Chicken Curry | Ground Cinnamon + Raw Chicken or Firm Tofu + Garlic + Chili Pepper + Spiceleaf + Plain Yogurt + Coconut + Pot + Rice | |
| Candied Sweet Potato | Ground Cinnamon + Sweet Potato + Saucepan + Sugar | |
| Sweet Potato Pie | Bakeware + Sweet Potato + Dough + Ground Cinnamon + Marshmallows | |
| Gingerbread | Ground Cinnamon + Ginger + Flour + Bakeware + Egg or Firm Tofu + Butter | |
| Zucchini Bread | Ground Cinnamon + Zucchini + Dough + Walnut + Bakeware | |
| Walnut Raisin Bread | Walnut + Raisin + Dough + Bakeware + Ground Cinnamon | |
| Candied Walnuts | Walnut + Sugar + Vanilla + Ground Cinnamon + Saucepan | |
| Chai Tea | Black Pepper + Cinnamon + Tea Leaf | |
| Baklava | Walnut + Dough + Cinnamon + Butter + Sugar + Bakeware | |
| Coffee con Leche | Espresso + Milk or Fresh Milk or Soy Milk + Ground Cinnamon | |
| Fruit Crumble | Bakeware + any Fruit + Ground Cinnamon + Flour + Butter | *not working |
| Eggnog | Juicer + Egg or Firm Tofu + Ground Nutmeg + Cinnamon + Heavy Cream or Silken Tofu | (NOT ground Cinnamon) |
| Custard | Saucepan + Egg or Firm Tofu + Ground Nutmeg + Cinnamon + Heavy Cream or Silken Tofu | |
| Spice Bun | Bakeware + Flour + Milk or Fresh Milk or Soy Milk + Ground Nutmeg + Ground Cinnamon + Raisins | |
| Zeppole | Pot + Cooking Oil + Dough + Ground Cinnamon | |