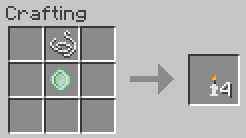 The Candle is a block in the HarvestCraft mod. It is crafted with either Beeswax or Wax and a piece of String. The default candle is a White Candle, but it can be dyed to become any of the other 15 colors. Similar to a Torch, it can be placed either on the ground or on a wall, and it also emits the same amount of light as a Torch.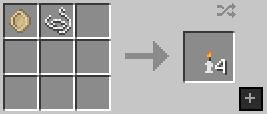 Version 1.10.2 contained a bug where candles would not produce light. This defect was fixed in a later version.

(1.10.2 Recipe)
How to Dye Candles
Edit
In order to dye candles you need one dye per 4 candles in a crafting grid.
Alternatively, if you wish to dye more than 4 candles at a time, all the same color, you can add more candles to any of the 4 slots you chose, but cannot surround a dye with 8 candles.( you actually need wax, string, and a color to make a colored candle)
Black Candle
Blue Candle
Brown Candle
Cyan Candle
Dark Grey Candle
Green Candle
Light Blue Candle
Lime Candle
Magenta Candle
Orange Candle
Pink Candle
Purple Candle
Red Candle
White Candle
Yellow Candle