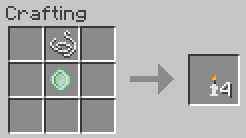 The Candle is a block in the HarvestCraft mod. It is crafted with either Beeswax or Wax and a piece of String. The default candle is a White Candle, but it can be dyed to become any of the other 15 colors. Similar to a Torch, it can be placed either on the ground or on a wall, and it also emits the same amount of light as a Torch.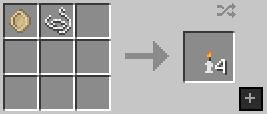 (Currently in the most recent versions the candle has not been emitting light. This is a bug that has not been fixed yet (it emits a strong light in dynamic lights though) )

(1.10.2 Recipe)
How to Dye Candles
Edit
In order to dye candles you need one dye per 4 candles in a crafting grid.
Alternatively, if you wish to dye more than 4 candles at a time, all the same color, you can add more candles to any of the 4 slots you chose, but cannot surround a dye with 8 candles.
Black Candle
Blue Candle
Brown Candle
Cyan Candle
Dark Grey Candle
Green Candle
Light Blue Candle
Lime Candle
Magenta Candle
Orange Candle
Pink Candle
Purple Candle
Red Candle
White Candle
Yellow Candle
Ad blocker interference detected!
Wikia is a free-to-use site that makes money from advertising. We have a modified experience for viewers using ad blockers

Wikia is not accessible if you've made further modifications. Remove the custom ad blocker rule(s) and the page will load as expected.