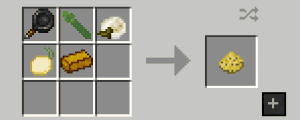 Asparagus Quiche is a Large Meal that fills 8 hunger (4 shanks) and 10 Saturation.
Quiche is a savory, open-faced pastry crust with a filling of savory custard with one or more of cheese, meat, seafood or vegetables. Quiche can be served hot or cold. It is part of French cuisine but is also popular in other countries, particularly as party food.
Ad blocker interference detected!
Wikia is a free-to-use site that makes money from advertising. We have a modified experience for viewers using ad blockers

Wikia is not accessible if you've made further modifications. Remove the custom ad blocker rule(s) and the page will load as expected.